Cirque du Soleil is pleased to announce that the critically-acclaimed production Alegría will perform in Belgrade at the Belgrade Arena from June 29 – July1, 2012 for five performances only.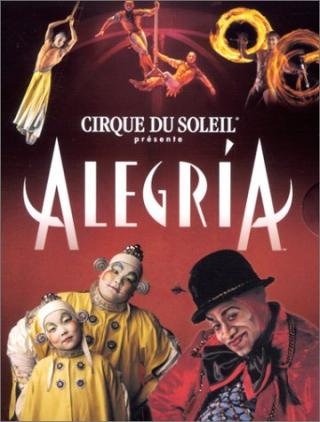 Alegría is a Cirque du Soleil classic and an internationally acclaimed production that has entertained more than 10 million people worldwide.  Alegría is a Spanish word that means happiness, joy and jubilation and features an international cast of 55 performers and musicians from 17 countries and showcases breathtaking acrobatics. Acts include the Synchro Trapeze and the intense and high-energy Aerial High Bars in which daring aerialists fly to catchers swinging more than 40 feet above the stage. The vibrancy of youth is alive in Power Track, a brilliant display of synchronized choreography and tumbling on a trampoline system hidden under the stage floor. In Russian Bars, artists fly through the air and perform spectacular somersaults and mid-air turns, landing on bars perched on the sturdy shoulders of catchers.
Song: Francesca Gagnon – Alegria
Show Schedule (June 29 – July 1, 2012):
Friday, June 29 at 8pm,
Saturday, June 30 at 4pm and 8pm
Sunday, July 1 at 1pm and 5pm
Ticket Information:
| | |
| --- | --- |
| | 5,500.00 |
| | 3,900.00 |
| | 3,500.00 |
| | 2,900.00 |
| | 2,500.00 |
Cirque du Soleil
From a group of 20 street performers at its beginnings in 1984, Cirque du Soleil is a major Québec-based organization providing high-quality artistic entertainment. The company has 5,000 employees, including more than 1,300 artists from more than 50 different countries.
Cirque du Soleil has brought wonder and delight to more than 100 million spectators in more than 300 cities on six continents. Cirque du Soleil International Headquarters are in Montreal, Canada.
Organizer: Live Nation, Adria Entertainment & Arena Beograd
 Source: www.arenabeograd.com
Are you coming to Belgrade for the Cirque show? If you looking for accommodation in Belgrade, contat us: My Apartment Belgrade
Welcome!